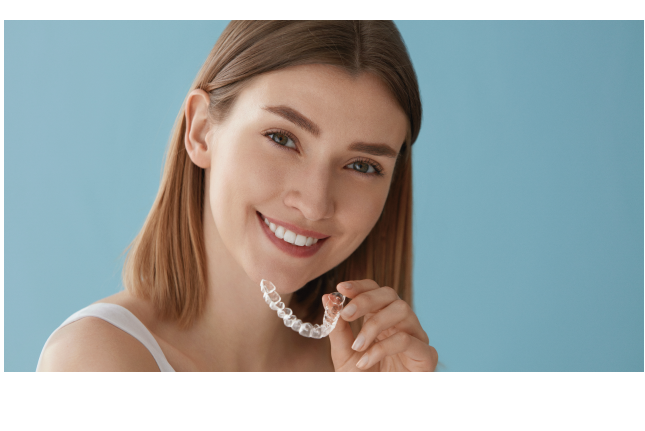 Clear Aligners
If you have crooked or spaced teeth but are put off wearing braces, there is an alternative: a form of invisible braces sometimes known as clear aligners. Clear aligners correct the position of teeth using a series of removable aligners made from clear plastic and worn over the teeth like a gum shield.
What is involved?
After a thorough assessment to ensure that Aligners are suitable for your needs, we take impressions of the teeth and a series of aligners are 3D printed for a custom fit that works with your changing smile.

Each set of clear braces is worn for 1-2 weeks, removing them only when you're eating, drinking, brushing, or flossing. You'll visit Currie & Gribben every six to eight weeks to check in and ensure the straightening process is progressing as it should. Over the weeks and months, as your invisible aligners are changed, your teeth will gradually move and straighten. The total treatment time typically ranges between 3 and 15 months, after which you'll be able to reveal your perfectly straight smile to the world!
Who are aligners for?
Aligners are for anybody whose smile requirements can be met with this advanced alignment method. The main advantage is it's very discreet and suitable for those patients who are keen to keep their treatment private. It is also invaluable to those whose self-confidence has already taken a battering because of their not-so-perfect smile. This is where clear aligners comes to the rescue – a straightforward, discreet, comfortable solution with visible results. With Invisalign, people have no idea you're having your teeth straightened.

As a clear aligners patient, you'll be in famous company: David Gandy, Tom Cruise, Khloe Kardashian and Oprah Winfrey are just a few celebrities who have used Clear aligner systems to perfect their smiles. It's even rumoured that Kate Middleton used Invisalign aligners before her wedding!

Benefits of aligning teeth:
Improves appearance, great smile and improved self esteem
Straight teeth are easier to clean reducing the risk of decay and gum disease
Reduced risk of accidental injury to protruding teeth
Re-arranging teeth to improve the bite
Elimination of stress on jaw points and abnormal tooth wear
Improved placement of teeth for future restorative care
Finance options available
What our patients are saying
Our happy clients
I have been a patient with Mel Currie for just over 20 years. In that time I have presented with a number of problem dental issues. These have been treated successfully with a high degree of professional competence and always with patience and reassurance. I owe Mel a lot for my present good dental health
We have been patients of Mel Currie for over a decade and have at all times been totally satisfied with the service and treatment which has been conducted in a most professional and thorough manner. Mel has resolved many and varied complex problems during our time with him to our total satisfaction.
absolutely fabulous!!!
It was a joy to watch them interact with my son, who usually finds it hard to sit still.
no fear or worry and a happy boy going home.
Massive thanks to Mel and the team. After getting three crowns I can smile again with confidence. A great transformation, the crown colours and shape match my natural teeth perfectly. Highly recommended, thanks so much!
I absolutely dread getting work done on my teeth but need not have worried so much as Mel was very reassuring and did a fantastic job. Thank you so much!
Going to Mel for over six years now and am delighted with the service and would highly recommend Currie and Gribben to anyone.
I would like to thank Gemma and Kirsty , I've been going to this Dentist for a number of years and I can safely say these two girls are very professional at their jobs. I wouldn't go anywhere else. Keep up the good work and look forward to seeing you again.
Fantastic place. As a very nervous patient I avoided the dentist when I knew I needed to go. A friend told me about Mel and I would recommend him to anyone. He is the best and makes you feel at ease.
Our Address
1 Beresford Road, Armagh, BT61 9AU
Open Hours
Mon - Thursday 8.30 AM to 5.30 PM
Friday 8.30 AM to 4.30 PM