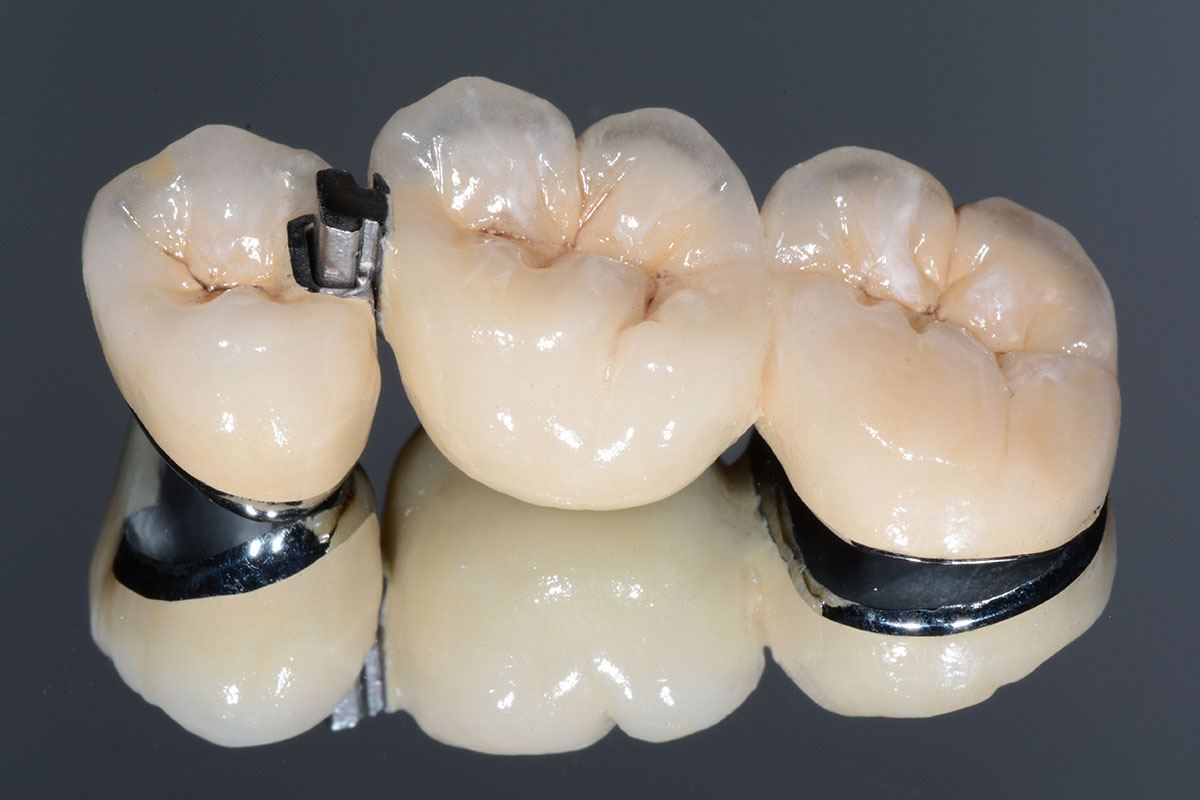 Dental Bridges
A dental bridge is used to reduce a gap created by one or more missing teeth; literally bridging the gap. Many types of dental bridges exist but they are all fixed firmly in place and can only be removed by a dentist.
Traditionally bridges have relied on natural teeth to support them however, with advances in science and technology, Currie & Gribben can now offer implant supported bridges, with the advantage of spanning larger gaps.
There are two types of dental bridge:
Conventional – These bridges require some reduction of one or both teeth adjacent to the gap. A custom-made precision bridge is then cemented over the tooth/teeth to completely cover them and replace the missing teeth.
Adhesive Bridge or Resin Bonded Dental Bridges are the quickest, most conservative, and cost-effective solution in reducing that gap in your smile. They rely on good quality and quantity of tooth substance. A metal or porcelain wing is bonded to the inside of an adjacent sound tooth, this carries an aesthetic custom-made ceramic tooth to bridge the gap in your smile.
At Currie & Gribben, we use advanced technology and bridge materials based on Zirconium, which has eliminated the requirement for a metal substructure for your bridge. All ceramic bridges now are the gold standard in providing the ultimate aesthetic result.
Finance options available
What our patients are saying
Our happy clients
I have been a patient with Mel Currie for just over 20 years. In that time I have presented with a number of problem dental issues. These have been treated successfully with a high degree of professional competence and always with patience and reassurance. I owe Mel a lot for my present good dental health
We have been patients of Mel Currie for over a decade and have at all times been totally satisfied with the service and treatment which has been conducted in a most professional and thorough manner. Mel has resolved many and varied complex problems during our time with him to our total satisfaction.
absolutely fabulous!!!
It was a joy to watch them interact with my son, who usually finds it hard to sit still.
no fear or worry and a happy boy going home.
Massive thanks to Mel and the team. After getting three crowns I can smile again with confidence. A great transformation, the crown colours and shape match my natural teeth perfectly. Highly recommended, thanks so much!
I absolutely dread getting work done on my teeth but need not have worried so much as Mel was very reassuring and did a fantastic job. Thank you so much!
Going to Mel for over six years now and am delighted with the service and would highly recommend Currie and Gribben to anyone.
I would like to thank Gemma and Kirsty , I've been going to this Dentist for a number of years and I can safely say these two girls are very professional at their jobs. I wouldn't go anywhere else. Keep up the good work and look forward to seeing you again.
Fantastic place. As a very nervous patient I avoided the dentist when I knew I needed to go. A friend told me about Mel and I would recommend him to anyone. He is the best and makes you feel at ease.
Our Address
1 Beresford Road, Armagh, BT61 9AU
Open Hours
Mon - Thursday 8.30 AM to 5.30 PM
Friday 8.30 AM to 4.30 PM