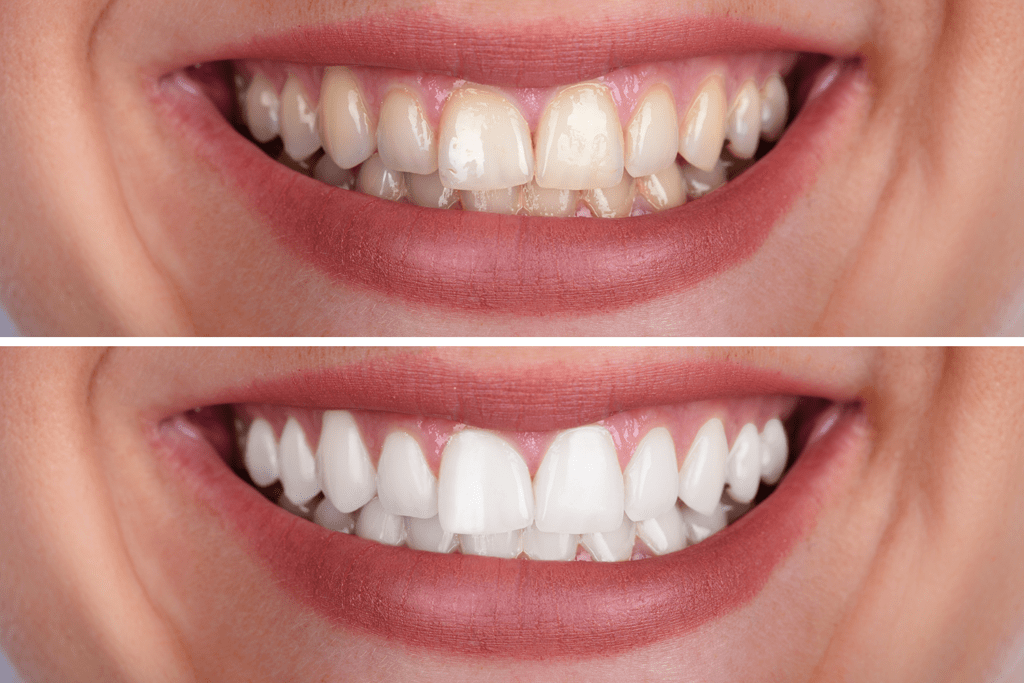 What is tooth whitening?
Tooth whitening is as it sounds – it's the process of lightening the colour of your teeth to try and achieve a more natural looking and whiter finish. The major benefit is that, when tooth whitening is carried out under the supervision of a qualified dental professional, you can be assured that the procedure is safe and won't damage your teeth in any way. This is achieved through a bleaching process that can be carried out in the comfort of your own home using precision fitting whitening trays and highest quality peroxide based whitening gels.
How does tooth whitening work?
Your dentist will first carry out a full dental examination to assess the overall health of your mouth. Provided everything looks good, they will then explain your teeth whitening options.
With the Boutique system which we use, you can whiten your teeth during the day, or overnight as you sleep, depending on what suits your lifestyle.
Your dentist will take some photographs to check the existing shade of your teeth. Then impressions will be taken and sent to the Dental laboratory, where your bespoke, custom-fit whitening trays will be made.
Your trays will be fitted at the practice. Your dentist will show you how to apply the whitening gel and explain how long to wear the trays for. In most cases, you will see an improvement in just a few days and optimum results in around 3 weeks. It really is that simple!
What our patients are saying
Our happy clients
I have been a patient with Mel Currie for just over 20 years. In that time I have presented with a number of problem dental issues. These have been treated successfully with a high degree of professional competence and always with patience and reassurance. I owe Mel a lot for my present good dental health
We have been patients of Mel Currie for over a decade and have at all times been totally satisfied with the service and treatment which has been conducted in a most professional and thorough manner. Mel has resolved many and varied complex problems during our time with him to our total satisfaction.
absolutely fabulous!!!
It was a joy to watch them interact with my son, who usually finds it hard to sit still.
no fear or worry and a happy boy going home.
Massive thanks to Mel and the team. After getting three crowns I can smile again with confidence. A great transformation, the crown colours and shape match my natural teeth perfectly. Highly recommended, thanks so much!
I absolutely dread getting work done on my teeth but need not have worried so much as Mel was very reassuring and did a fantastic job. Thank you so much!
Going to Mel for over six years now and am delighted with the service and would highly recommend Currie and Gribben to anyone.
I would like to thank Gemma and Kirsty , I've been going to this Dentist for a number of years and I can safely say these two girls are very professional at their jobs. I wouldn't go anywhere else. Keep up the good work and look forward to seeing you again.
Fantastic place. As a very nervous patient I avoided the dentist when I knew I needed to go. A friend told me about Mel and I would recommend him to anyone. He is the best and makes you feel at ease.
Our Address
1 Beresford Road, Armagh, BT61 9AU
Open Hours
Mon - Thursday 8.30 AM to 5.30 PM
Friday 8.30 AM to 4.30 PM