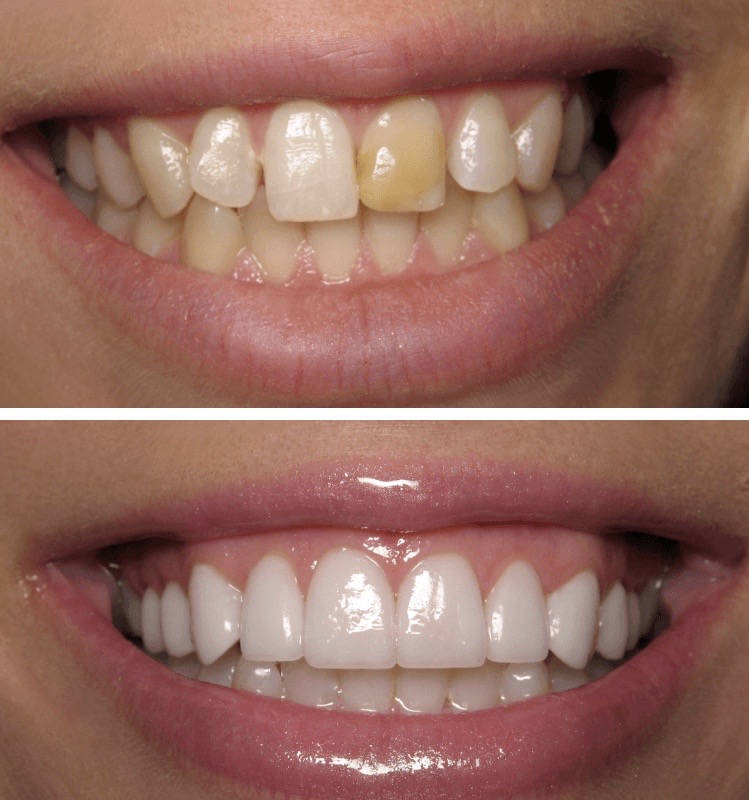 Veneers & Smile Design
A smile is more than just your teeth. Facial shape, lip support and jaw alignment are all taken into consideration. When creating your treatment plan, our goal is to create a smile that fits your face and, most importantly, your personality too
At Currie & Gribben, we have many more highly aesthetic solutions than we had even five or ten years ago. Materials and techniques have transformed dentistry and in turn has transformed the quality of care which we are able to provide.
The Process
Here, you can have the peace of mind of being in the capable hands of a highly professional and dedicated team. We are passionate about giving you a first-class experience with results to boost your confidence and the vitality of your smile. As with every treatment we offer, our clinicians will carefully talk through your options to ensure you can make the best choices about looking and feeling good about your smile.

Every plan is personalised to each individual and can include a combination of Clear Aligners, Veneers, Bonding Dentistry and Whitening. Exceptional skill is needed to deliver the correct result. There may be several appointments, but we promise to tailor every plan to get the best result possible.

Your smile consultation appointment will usually involve an examination and friendly informative discussion to establish exactly what changes you would like to make to your smile. We will also take several digital high-quality photographs and impressions of the upper and lower teeth.

With years of experience our dentists have a good idea of how a finished treatment will look. However, sometimes it can be very difficult for a patient to imagine the same result. To overcome this and once we understand the changes which the patient wishes to make then we can ask the laboratory to provide us with a simulation of the proposed changes on a model of your teeth.

This can be an invaluable tool as both patient and dentist are looking at the same exact proposed changes. Together, we can now clearly see how the smile will appear after treatment. In some cases, we can also fabricate zero preparation easily removable temporaries which you can try prior to beginning any treatment giving us some invaluable realistic information.

Smile design and a laboratory simulated model allows you to choose your smile and see the proposed solution and results before any work commences.

Finance options available
What our patients are saying
Our happy clients
I have been a patient with Mel Currie for just over 20 years. In that time I have presented with a number of problem dental issues. These have been treated successfully with a high degree of professional competence and always with patience and reassurance. I owe Mel a lot for my present good dental health
We have been patients of Mel Currie for over a decade and have at all times been totally satisfied with the service and treatment which has been conducted in a most professional and thorough manner. Mel has resolved many and varied complex problems during our time with him to our total satisfaction.
absolutely fabulous!!!
It was a joy to watch them interact with my son, who usually finds it hard to sit still.
no fear or worry and a happy boy going home.
Massive thanks to Mel and the team. After getting three crowns I can smile again with confidence. A great transformation, the crown colours and shape match my natural teeth perfectly. Highly recommended, thanks so much!
I absolutely dread getting work done on my teeth but need not have worried so much as Mel was very reassuring and did a fantastic job. Thank you so much!
Going to Mel for over six years now and am delighted with the service and would highly recommend Currie and Gribben to anyone.
I would like to thank Gemma and Kirsty , I've been going to this Dentist for a number of years and I can safely say these two girls are very professional at their jobs. I wouldn't go anywhere else. Keep up the good work and look forward to seeing you again.
Fantastic place. As a very nervous patient I avoided the dentist when I knew I needed to go. A friend told me about Mel and I would recommend him to anyone. He is the best and makes you feel at ease.
Our Address
1 Beresford Road, Armagh, BT61 9AU
Open Hours
Mon - Thursday 8.30 AM to 5.30 PM
Friday 8.30 AM to 4.30 PM