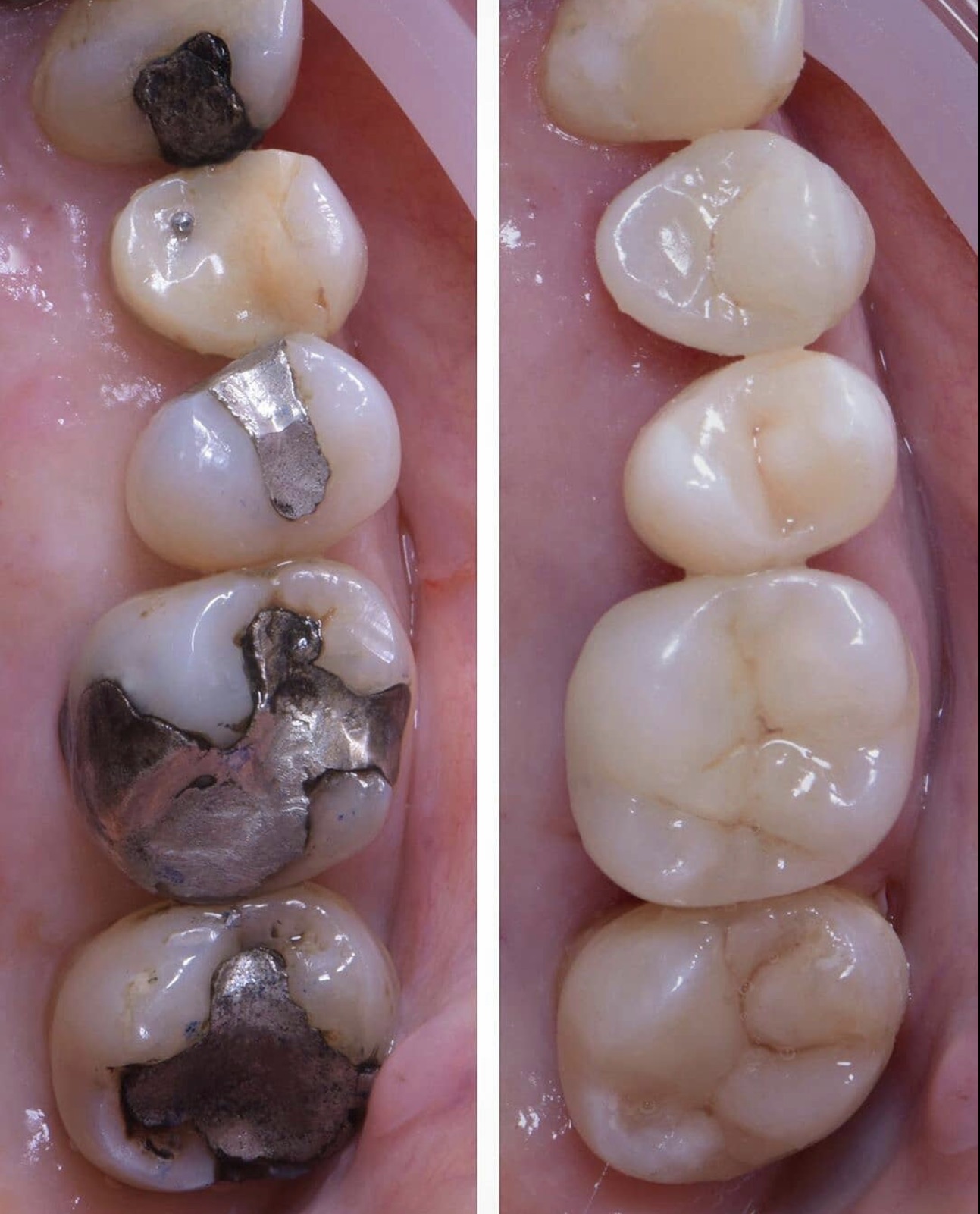 White Fillings
We have spoken with lots of patients who are conscious of the unsightly appearance of grey amalgam fillings when they laugh or smile. It's always a rewarding experience to see our patients satisfied when we restore their teeth to their natural appearance.
The vast majority of fillings we carry out at Currie & Gribben are white composite fillings. These look great when compared to an ageing grey amalgam filling. They are extremely lifelike and mimic the shape and colour of the original tooth. Your dentist is the only one who need know that you have any fillings at all.
What are the benefits of white fillings?
Their appearance is so much more natural and the fillings can be virtually invisible
Recent research shows that they last a similar length of time when compared to grey amalgam fillings.
They can restore not only teeth cavities caused by decay, but chipped, broken and worn teeth.
The colour can be matched to your normal tooth colour to appear natural, so it isn't noticeable when you smile.
They may be used as a veneer/cover over stained or discoloured teeth to mask the darker tooth underneath.
Much more environmentally friendly as there is no waste mercury or heavy metal to dispose of.
It is usually best practice to change fillings only when you or your dentist decides that an old filling has broken or needs to be replaced. When this happens, you can ask to have it replaced with a tooth-coloured filling. Here at Currie & Gribben we can show you a photograph of the defective filling and explain the problem so that you can best understand your own situation. We will recommend a treatment choice for you and will always inform you of any alternative treatment options.
Are there any alternatives to fillings?
There are alternatives such as crowns and inlays. These are usually reserved for more badly damaged teeth and are made in a dental laboratory. Veneers can be used on front teeth instead of crowns or fillings. At Currie & Gribben, we take great care to choose from a small number of very high-quality laboratories. The relationships we have with our laboratory technicians have been built up over many years to ensure that our patients receive only the highest quality in terms of materials and workmanship.
What our patients are saying
Our happy clients
I have been a patient with Mel Currie for just over 20 years. In that time I have presented with a number of problem dental issues. These have been treated successfully with a high degree of professional competence and always with patience and reassurance. I owe Mel a lot for my present good dental health
We have been patients of Mel Currie for over a decade and have at all times been totally satisfied with the service and treatment which has been conducted in a most professional and thorough manner. Mel has resolved many and varied complex problems during our time with him to our total satisfaction.
absolutely fabulous!!!
It was a joy to watch them interact with my son, who usually finds it hard to sit still.
no fear or worry and a happy boy going home.
Massive thanks to Mel and the team. After getting three crowns I can smile again with confidence. A great transformation, the crown colours and shape match my natural teeth perfectly. Highly recommended, thanks so much!
I absolutely dread getting work done on my teeth but need not have worried so much as Mel was very reassuring and did a fantastic job. Thank you so much!
Going to Mel for over six years now and am delighted with the service and would highly recommend Currie and Gribben to anyone.
I would like to thank Gemma and Kirsty , I've been going to this Dentist for a number of years and I can safely say these two girls are very professional at their jobs. I wouldn't go anywhere else. Keep up the good work and look forward to seeing you again.
Fantastic place. As a very nervous patient I avoided the dentist when I knew I needed to go. A friend told me about Mel and I would recommend him to anyone. He is the best and makes you feel at ease.
Our Address
1 Beresford Road, Armagh, BT61 9AU
Open Hours
Mon - Thursday 8.30 AM to 5.30 PM
Friday 8.30 AM to 4.30 PM